Latest news
Latest news as at 23 September:
If you have any news you would like to share e-mail [email protected]
The final Club Final  was won by Nick Charlwood  Ben Coldrick & Finley Williamson  who defeated  Dylan &  Lee Williamson & Nathan Kitchen in the 2 Wood Triples.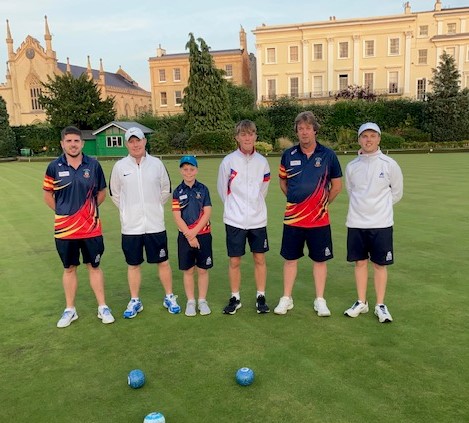 The final matches of the 2021 Season are: 
Wednesday. A match v Ashcombe BC. 8 triples and 2 rinks starting at 2pm. The home team won narrowly 167 shots to 164, winning on five rinks and drawing on one.
Thursday. MMX home match v Sir Thomas Riches at 2pm 
Friday. Afternoon Triples followed by Presentation by the league sponsor HomeInstead with light refreshments. All ATL players welcome to attend. For the latest ATL table see ATL Table as at 17 Sept  
Saturday. Away match at Stratford.
Sunday: 
Cheltenham play Frampton on Severn BC in the County Challenge Cup Final at Pineholt.  Start 1-30pm. Support welcome.
Closing of the Green – at 2pm. Please add your name to the list in the clubhouse or contact Gill Dorman at [email protected]
RESULTS
MMX On Monday we beat Whaddon by 77 to 68 winning on 3 rinks, drew one and lost one. This result was particularly pleasing as we had a number of new bowlers playing.
In last Sunday's Finals, Joan Surman & Nathan Kitchen beat Carolie & Daniel Brookes 32-15 in the Mixed 4 Wood H/C Pairs and John Winter pipped Peter Babbage 21-19 to win the Charles Watt 4 Wood H/C Pairs (over 60s).
So near yet so far! Cheltenham came within a whisker of reaching the National Double Rink Final yesterday. After beating fancied Gerrards Cross BC (Bucks) by 3 shots in the quarter final they faced Burton House (Lincs) for a place in the final. Having fought back to be all square at 14 ends and holding shot Cheltenham were eliminated by the final bowl of the final end. (The team will no doubt give a more vivid account of the last bowl!) A disappointing end to a campaign involving hundreds of clubs across the country but the team did Cheltenham and Gloucestershire proud. Well done lads. 
Well done Penny Callaghan Gill Dorman and Angela Teakle who were runners up in the Ladies Benevolent Triples Plate Competition last Saturday
OTHER MATTERS:
Ladies Christmas Lunch – this year's event will take place on Thursday 9th December at Cowley Manor, cost £25 for 2 courses, £30 for 3 courses. This event is open to all lady members, social and bowling.  There is a list on the board in the clubhouse or you can contact Gill Dorman at [email protected]
MMX – A MESSAGE FROM PETER AND JEANETTE   
A very sincere thank you to all those, who have supported our MMX matches this season. There have been some long journeys, and some bad weather, but we have managed to fulfil most of our fixtures. We have had success and disappointments but, I hope, a lot of fun and friendship as well.
Jeanette and I said at the beginning of the season that our aim was to give as many players as possible a chance to represent our club and it has been very rewarding to see so many new members taking part in the matches. We also asked our more experienced bowlers to be willing to play in positions (Lead, No2 and Skip) which would be different from their usual expectation. They did this willingly and so offered opportunities for all the new bowlers to gain a knowledge of the game as a whole. Once again, a big thank you to you all.
With the summer bowling season drawing to a close at the end of September it is time to look forward to the up-and-coming Short Mat indoor Winter season. If you would like to enter a team for either the daytime or the evening league now is the time to complete your entry form, these need to be in by Friday 1st October. Entry Forms will be available at the club from Monday 6th September or can be found at shortmat entry form20212022 . We are anticipating starting the season week commencing 18th October."
2022 GBA Competitions entry form 2022 GBA Men's Entry Form  Preferred payment by bacs (ref NAME & GBA COMPS), otherwise cash or cheque left in sealed envelope at the bar (latter made payable to Cheltenham Bowling Club); card payments are permissible.  The Entry form for the Ladies County Competitions can be found on the Ladies notice board. Both lists close at the end of the month.
Nominations for 2022 Club Officer appointments can be made on the list posted  in the bowlers lounge. See CBC Executive Appointments 2022  
The 2021 GBA Annual Presentation Luncheon is on Sunday 17 October 2021. See GBA Presentation Lunch 2021 A list for attendees and menu choices has been posted  on the notice board.
Anyone interested in becoming a Club Marker can find details at Markers Courses 30 October & 14 November Markers are needed within the club so we will bear the £15 fee for the course. Marking qualification can also be an important first step to becoming a Coach or Umpire. 
DATES FOR YOUR DIARY:
Road closures for resurfacing in Suffolk Square area 28 -30 September. See Road closures for details 
The Suffolks Markets 2021. Sunday 26th September : 11am to 4pm Sunday 31st October : 11am to 4pm Sunday 28th November : 11am to 5pm :Christmas Market