Latest news
Latest news as at 10 April:
CORONAVIRUS (COVID-19) UPDATE
If you have any news you would like to share e-mail [email protected]
A meeting tomorrow (Monday) will confirm outdoor bar opening times, access to greens for roll-ups and the Opening of the Greens taking account of the weather forecast, condition of the greens and the royal funeral. The outcome will be published on this page tomorrow afternoon.
Jeanette has kindly agreed to provide the following

Refreshments at the Opening of the Greens
Cheese Scone                                £1.00
Plain scone and jam                   £1.00
Fruit scone and jam                   £1.00
Plain scone cream & jam          £1.50
Fruit scone cream & jam          £1.50
Gluten free on request
ALL individually wrapped
All proceeds to club 
Pre-order

by e-mailing

[email protected]

or text 07961612856 or phone on 01242 321402.
Bowlers can find an introduction to the 2021 MMX SEASON by clicking on MMX Fixtures
If you would like to nominate for the first MMX match v Dowty at home on 28 April you can do so by clicking on MMX Dowty match
The first round of Afternoon Triples will be played on Friday 30th April. Team Managers have all received copies of the season's fixtures along with squad membership and contact details. If you are not in a squad but wish to play in the competition then please contact David Bromley on 07484222546. If you are already in a squad your team leader should already have spoken with you to confirm this. Anyone willing to manage a squad should also make contact with DB. We currently have 11 teams but there is always room for one more.  
A decision re commencement of an outside bar table service and 'roll ups' will be taken on Monday taking due account of the weather and the condition of the greens. Watch this space for further announcements.
GBA ruling on President's Tour clash with County Competitions
Wishing all member's a HAPPY EASTER. A lovely Easter Sunday morning ……………….but will it last?
At least we have Boris on our side!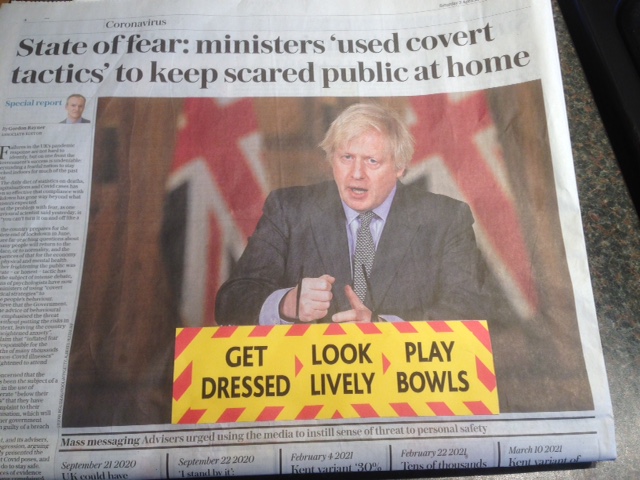 This months 100 CLUB winners are:
£10.00, number 83 Alan Tyler
£15.00 number 44. Gill Longley
£25.00. number 36 Campbell McColl
£50.00 number 21. Malcolm Panter

Winners to contact Neville please with your bank details so he can organise payment 
The next draw for £100 will be at the Opening of the Greens on 17 April.
OPENING OF THE GREENS. The 2021 Season kicks off at 2.00pm on Saturday 17th April with a 24 pairs competition (with 7 subs). The Captain will be sending further details to all participants.
Members will be pleased to hear that the merger of Carlsberg and Marston Breweries will give the club bar a wider choice of drinks.
Info regarding revised 2021 County Competitions schedule and draw can be found at  2021 GBA Championships amended
WORKING PARTY. Our thanks to 10 Members who have volunteered to help with general tiding up work around the club grounds and greens. They meet on Tuesday mornings if you would like to help.
Greens and Grounds looking good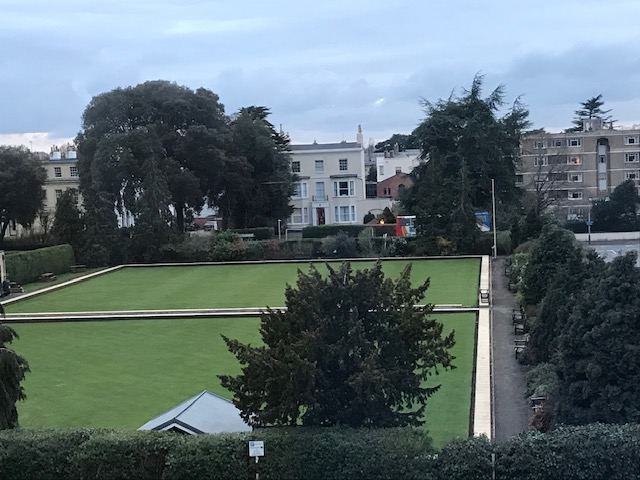 BE 2021 COMPETITIVE EVENTS UPDATE.

  This will be primarily of interest to those members who have entered National Championship Competitions and National Competitions or play in National Inter-County events (like Middleton and Johns).  But there are some good encouraging clues in the five documents linked in to the announcements. which can be found at https://www.bowlsengland.com/competitive-events-update/  .  It's generally good news, but more for the Gloucestershire Men than the Women, in terms of numbers of qualifiers for Leamington. The draw for National Competitions has not yet been released.   The BE  'Return to play' guidance for clubs is due to be released later today.  
Trying to plan a holiday. The latest fixture list is available on the "FIXTURES" page of the web site
Imperial Hearing will not be sponsoring the Cheltenham Open Pairs in August although they remain committed to sponsoring our latest shirt. If you know anyone who might like to sponsor this mutually beneficial event please contact Allen at [email protected]
Renewal of Annual Subscriptions are due on 1 April. Members should have received an e-mail with options and payment details. If you have not received this please contact Allen at  [email protected] 
A reminder that the club keep a small supply of standard CLUB SHIRTS Size 38-50 Men 14-20 Ladies. If you require shirts outside this range or a club jacket you will need to order on-line at https://www.silverfx.co.uk/category/sports-clubs/cheltenham-bowls-club/ Order before 8 March for estimated delivery 30 April. Order in February and get free shipping using code WWSHIP at checkout. Contact Margaret Merry at [email protected] for further information or help with your order.
In this enforced lull before our season begins bowlers will be sorting out their BOWLS, CLOTHING AND EQUIPMENT. If you have anything to sell which others might use please send the details to [email protected]
PREVIOUS INFORMATION:
Work completed. Thanks to BGGC for organising.
Work goes on and the flowers come out at the club
BGG activity – see BGGC Action Plan 1 March
PM's 'roadmap' indicates Opening of the Green will go ahead on 17 April with outdoor bar facilities. Main clubhouse and bar will not open until 17 May which means social events before then have been be cancelled.
Members are requested to keep an eye out for each other, especially those members who may live on their own. Any problems should be brought to the attention of our Safeguarding Officers (George Bevan: – 07740-432111, Mike Whitmarsh: – 07785-513200, Jude Vidler: – 01242-603430) or a member of the committee.